Music Director and Principal Conductor
Maestro Wroe is Music Director of the New Jersey Festival Orchestra, Principal Conductor at Phoenicia International Festival of the Voice in New York, and a frequent conductor of L'Orchestre Régional de Normandie in France.
From 2000-2014 he was a regular conductor with New York City Opera, leading and assisting in numerous productions. Orchestras conducted include the Boston Symphony Orchestra, Saint Louis Symphony, Royal Scottish National Orchestra, L'Orchestre National de Lille, Opera de Toulon, New Jersey Symphony L'Ensemble de Paris, Symphony Nova Scotia, Kansas City Symphony, Santa Fe Symphony, New York City Ballet, Neue Brandenberg Symphony, L'Orchestra Lamoureux with cellist Mstislav Rostropovitch, Opera de Toulon, Jerusalem Symphony Orchestra, Das Loh-Orchester Sondershausen, Philharmonische Orchester der Stadt Heidelberg, Delaware, Harrisburg, Huntsville, De Moines Symphony, and numerous tours of Western Austria with Vorarlberg Symphony and at the Bregenz Frühlings Festival. Maestro Wroe is a preferred conductor in Asia, having directed the Taiwan National Symphony, Pusan Philharmonic, Shenzhen, Macau, Hangzhou, Nanjing, Wuhan, Zhejiang, Guiyang, and The Taipei and Taijung Symphony Orchestras. He was Music Director of Music on the Mountain: Garrett Lakes Arts Summer Festival in Maryland from 2000 – 2006, and Music Director and Founder of the Kansas City Camerata from 1990-1996.​
Maestro Wroe was Seiji Ozawa's Assistant Conductor at the Boston Symphony Orchestra, leading the Orchestra in Tanglewood (with Joshua Bell) in Boston's Symphony Hall (with Horacio Gutierrez), collaborating with Jesse Norman's recording of "Phraeda", and Itzhak Perlman's recording of Benstein's Serenade, and touring Europe with the Boston Symphony Orchestra Chamber Players. 2007 marked Maestro Wroe's recording debut with L'Orchestre National de Lille on the TransArt label with pianist Bruno Fontaine, and numerous broadcast recordings, through Austrian Broadcasting Authority (ORF), with the Vorarlberg Symphony.​
In addition to his residency at New York City Opera, Maestro Wroe was Resident Conductor at Oper der Stadt Heidelberg (1998-2002), Principal Conductor at Opera Delaware (2000 – 2005), and directed the summer 'Opera Under the Stars' series at the 7000 seater Garden State Arts Center in NJ.  From 2005-10 he was Music Director of Opera Teatro Gratticielo in NY, opened for the newly formed Fresno International Grand Opera, and served as Judge with Anna Moffo for the Metropolitan Opera National Council Auditions.​
Maestro Wroe, through the NJ Festival Orchestra, has diverse experience in cross-over genres, having collaborated with Kristin Chenoweth, Mannheim Steamrollers, Celtic Women, The 3 Irish Tenors, Natalie Merchant, Joan Rivers, Don Rickles, Bob Newhart, Jackie Evancho and Celtic Thunder, and a return guest at Ocean City Pops Orchestra, to name but a few.​
Maestro Wroe devotes considerable time to aspiring musicians. In 2014 he held a residency at Brown University Symphony Orchestra (Rhode Island) as its Interim Music Director, was Principal Conductor at N.Y. University Symphony Orchestra (2008-2011), and Director of Orchestras at Montclair State University, NJ (2000-2005). He led the Boston Symphony Orchestra Youth Concerts, the Taipei Symphony Orchestra Summer Youth Festival, given master-classes at New England Conservatory, Harvard University, Rutgers University and University of Alabama.  He has served as Judge for the Music Assistance Fund administered by the League of American Orchestras, and was the Chairman of the Jury of the New Jersey MTA State Concerto Competition.​
Awards are numerous, including the Seiji Ozawa Fellowship at Tanglewood, a citation in United States Congress for community commitment, and finalist in the 1st Bernstein International Conducting Competition.  He attended Lancing College, has a BMus from Manchester University (England), a MM from Northwestern (Chicago), and studied with Gustav Meier and Victor Yamposky.

LA FARSA AMOROSA
Lincoln Center, New York.
….But the star of this show was the conductor, David Wroe, who led a performance of bristling energy and sharp detail.​
NEW YORK TIMES  – Tommasini
GERSHWIN: PORGY AND BESS SUITE, CONCERTO in F.
L'Orchestre National de Lille/David Wroe Bruno Fontaine, piano.
TransArt label. (DDD)
….In the Porgy and Bess Suite they [David Wroe/L'Orchestre National de Lille] came into their own with an idiomatic, well recorded performance worthy of the composer.​
GRAMOPHONE  – Jeremy Nicholas
An unfamiliar rescue tale from a familiar composer 

​
….Teatro Grattacielo celebrated its 15th anniversary at Avery Fisher Hall…with Il Piccolo Marat, Mascagni's 14th opera, heard in its United State Premiere. ….The strongest impression was made by David Wroe, who drew an urgent, polished performance from the orchestra.​
New York Tiimes – Steve Smith
Guest Conductor Transfigures Night.

​
If conducting is about clarity and showing a composer's design, David Wroe is your man. He guided Symphony Nova Scotia through the expressionist tangle of Schoenberg's Verklarte Nacht with a sure hand and high sense of musical drama … Wroe, conducting from memory, clearly understood the significance of every single gesture in the music and how to indicate that to the musicians in the fraction of a second before they had to play it. ….another demonstration of Wroe's penchant for clarity, energy and drama in Haydn's London Symphony. He conducts the layers of the music and you hear what you never heard before.​
Nova Scotia Chronicle-Herald – Stephen Pedersen
David Wroe conducts l'Orchestre Symphonique de l'Opéra de Toulon with Gautier Capuçon

​
….Led by guest conductor David Wroe, the orchestra was full of energy, but also with finesse….David Wroe and the Orchestra left a stunning impression that blossomed in the fabulous Larghetto, endowing it with an impressive power…yet respectful of the Enlightenment model…the little Gavotte that made you smile delighting the hearts of every one there…..​
Anaclasse (France)
L'INCANTESSIMO AND L'ORACOLO
Avery Fisher Hall
What a difference the right conductor can make. Most of us who only knew Leoni's verismo one-act shocker from Richard Bonynges' 1975 Decca recording had been disappointed by the work. It seemed like a lackluster affair….That was proven November 13th when David Wroe conducted a fiery concert at Avery Fisher Hall….that forced one to make a complete reevaluation. L'Oracolo is no masterpiece, but in the right hands it can be an effective, atmospheric thriller with moments that anticipate Turandot.​
OPERA NEWS  – Eric Myers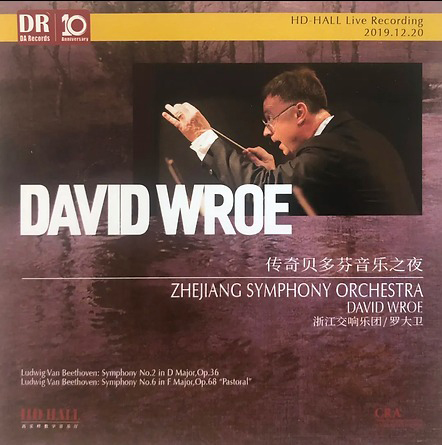 Ludwig Van Beethoven
Symphony No. 2 in D Major Op. 36
Symphony No. 6 in F Major Op. 68 "Pastoral"
David Wroe, Zhejiang Symphony Orchestra
Label: DR Records
​
'The fruitful influence of the historically minded period instrument movement on mainstream interpretation is vividly exemplified by the ZSO under a vibrant David Wroe. The Second Symphony springs out at us with a freshness and intense physicality … but also with a most sensitive attention to detail … the Pastoral is a delight, recapturing the composer's excitement as he arrives in his beloved countryside' — Sunday Times, December 22, 2019
George Gershwin
Rhapsody in Blue
Piano Concerto in F
Porgy & Bess: A Symphonic Picture
​
Bruno Fontaine | Piano
David Wroe | Conducting, Orchestre National Lille
Label: Transart Live
​
'… Fontaine and Wroe have crafted a Rhapsody in Blue that's both original and coherent, no mean feat.     …the album makes a satisfying whole  …the live sound from the Transart label gets maximum clarity out of a restored stone circus building in Reims.' — All Music
Sternstunden: 25 Jahre Symphonieorchester Vorarlberg
Live 1996 – 2010
​
Tristan Schulze | Composer
David Wroe | Conducting, Symphonieorchester Vorarlberg
Label: VMS / Zappel
Les 15 and de Transart
Rhapsody in Blue
George Gershwin
​
Bruno Fontaine | Piano
David Wroe | Orchestra Nationale de Lille
Label: Transart