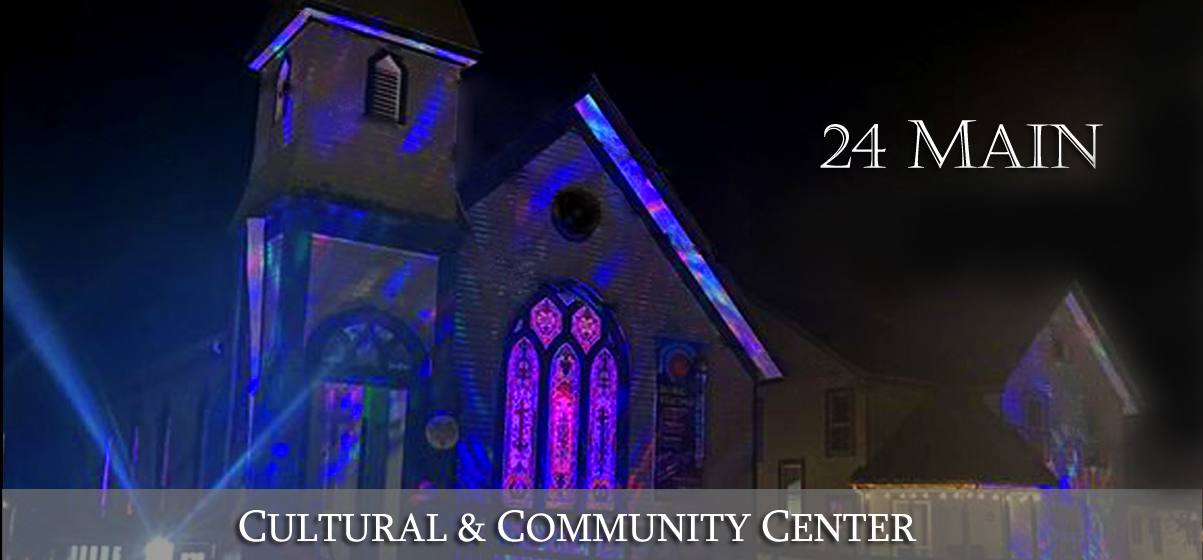 CULTURAL & COMMUNITY CENTER IN UPSTATE N.Y. 24 Main Street Phoenicia, NY
Our space of Cultural & Community Events. Help us achieve this goal, join us in our excitement and nurturing of 24 Main, please donate now!
Beginning October 2022, The International Festival of the Voice will begin classes on 
Voice, Performance, Acting, and Self-Care

at 24 Main, our Cultural Center in the heart of Phoenicia NY, a picturesque country town.
Classes are open to all. Work closely in an intimate setting with world renowned instructors in a beautiful historic Church currently exhibiting the art work of David Pollack, Ani Tashjian and Steven Weiss. The Phoenicia International Festival of the Voice is and has from its inception been an all inclusive welcoming and safe environment for all, regardless of their race, sexual orientation and political views.  Join us as we explore the human voice in action.
An Arts Leader/Educator, Performer, and Creative Producer.
Lisa comes to the International Festival of the Voice to teach after many years of experience in the field of arts and education. She is the Co-Founder of the Wellstock Inspire Fund for Children. She served as Program Director and faculty member for Syracuse University's Tepper Semester Program in New York City for twenty years, working in collaboration with the founder, Arielle Tepper, (Board Chair of the Public Theater and Tony award-winning producer), and oversaw the full semester, residence immersion experience for theater and film students in New York City. She also served as Creative Director of Development of the Araca Project, a producing program for emerging artists by the Tony Award-winning Araca Group, that discovered and produced the next generation of theater-makers in New York City. In addition, Lisa served as Cultural Liaison for Syracuse University's NYC Architecture Program. Lisa trained and worked extensively as an actor in Canada, England, and New York City. She is a member of the Actor's Equity Association, SAG-AFTRA. and she is also the creator and co-producer of a new developmental television mini-series. Lisa is currently studying at the Harvard Graduate School of Education with a concentration in Arts and Learning (Master's Degree 2024)
Artistic Director and Founder of The Phoenicia International Festival of the Voice
A major stage personality noted for his incisive interpretations, in a career which spans more than 40 years, Louis Otey has performed with the leading opera companies of the world, including the Metropolitan Opera, Lyric Opera of Chicago, Houston Grand Opera, New York City Opera and, in Europe, with the Royal Opera House Covent Garden, Opera de Paris, Teatro Real Madrid, Theatre de la Monnaie in Brussels, Opera de Geneve and the Royal Danish Opera.
Besides performing in leading theaters of the world, Mr. Otey has performed with some of the finest artists and conductors of our time. He has sung under the batons of James Levine, Anthony Pappano, Richard Bonynge, Sir Andrew Davis, James Conlon, Nicola Rescigno, and Zubin Mehta. Renowned artists with whom he has shared the stage include Luciano Pavarotti, Placido Domingo, Jon Vickers, Grace Bumbry, Cornell MacNeil, Joan Sutherland, Renee Fleming, Roberto Alagna, Anna Netrebko, Marylin Horne and Frederica von Stade. Louis Otey is a co-founder and the artistic director of The Phoenicia International Festival of the Voice. Since its inception in 2009, the Festival of the Voice has welcomed more than 50,000 attendees, produced major operas and musicals with some of the world's biggest stars (Lucas Meachem, Barry Banks, Morris Robinson, John Osborn, Elizabeth Futral, Ginger Costa-Jackson, Richard Troxell, Susan Powell, Richard White, Lee Roy Reams, Rosalind Elias and Ron Raines) and transforms a town of 350 inhabitants into a world renowned performance venue.
Course Description:
A two day workshop Thursday, Nov. 3 and Friday, Nov. 4th from 6:00- 8:00pm. Workshop fee: $400 per participant
    This short course is designed for singers who act as well as actors who sing! The techniques of singing AND acting strongly, resonantly, expressively, naturally and honestly do not always go together. However, I am ready to help you understand how they can!
 Learn how iconic singers like Maria Callas, Teresa Stratas (no, you don't have to be Greek!!!), Sir Thomas Allen and Placido Plácido Domingo synthesized singing that filled opera houses with no amplification and acting that touched the soul of audiences in a natural, unexaggerated and convincing manner. It's not easy yet it can be if you learn the right techniques.
Day One
A. Natural, supported breathing and learning to speak/sing on the breath.
B. Projecting your voice and the text
Day Two
A. Blending the text with the music and projecting both- naturally!
B. Understanding character through the vocal line/music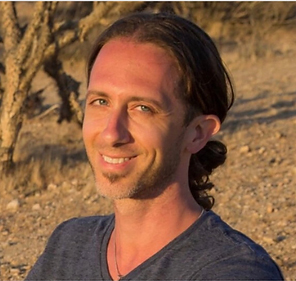 Percussionist, Massage therapist, Yoga Teacher, Holistic Consultant, and CEO of Musician Medicine



with 3 decades of experience in the music & healing arts industries, and multiple careers led by grounded practices & passionate creative expression, Brian Festa, CEO of Musician Medicine,
helps musicians re-ignite the inextricable link between wellbeing & musical excellence. Trained as a classical, jazz, and world musician, Massage Therapist, Yoga Teacher, and Holistic consultant, Brian teaches that the more we tune and refine our body and mind, the more joy, ease, and success we will have in our careers. 
Musician Medicine Retreat:
A two day music and wellness retreat to fine tune your body, mind, and practice for peak performance.
Early bird: $350
After 11/4: $400
Retreat Details
Short 1:1 consultations are included prior to the retreat
Under Brian's guidance, together we will:
1) Experience transformative Group Gestalt Breakthrough processes for honest self-inquiry to get to the root of your blocks once and for all.
2) Have individual and group feedback sessions to support your current musical projects.
3) Learn Alexander techniques to correct posture and ergonomics to take the richness of your technique and sound to the next level.
4) Learn innovative self-massage techniques to overcome repetitive strain and chronic pain.
5) Learn yoga postures and targeted PT techniques specific for musicians and vocalists to increase, strength, flexibility, range of motion, and enhance the mind-body-music connection.
6) Learn methods to balance your mental health, and overcome stress and performance anxiety.
"Inspiring break throughs and authentic sharing are way too rare among artists, where competition, financial struggles, and the introspection and solitude we need to create, can become isolating, and depressing."
Sara Street,
Dancer, New York
By the end of the retreat, you will:
1) Have a new community of supportive peers.
2) Have transcended your current mental, physical, emotional, and musical limitations.
3) Established your very own daily self-care practice.
4) Have tuned your SELF, your primary instrument, in ways you never have before; alive, renewed, and thriving, ready to take on the world!
Brian will also be available for private Massage and comprehensive Holistic Consultations before and after the immersion.
Appointments will be limited.
Contact Brian at 845-464-8654 to schedule.
Learn more at www.MusicianMedicine.com
Sarah Reny is the Founder & Artistic Director of Catskill Mountain Shakespeare,
a local nonprofit committed to bringing world class, professional theater to the region. She received a Master's in Classical Acting from the prestigious London Academy of Music and Dramatic Art and then moved to NYC where she has been working in the theater ever since.
Her work focuses on reimagining classics through a modern lens and utilizing the physical environment of the theatrical space: be it outdoors, under a tent, or in a traditional brick and mortar theater. She prides herself on her imagination, standard of excellence and love of community. She has a home in West Kill, NY.
Course Description:
Introduction to Shakespearean Acting (16+)
November 16, from 5:30pm-8:30pm and run for 4 weeks, culminating on December 14th (there will be no class the week of Thanksgiving). Workshop fee: $400 per participant
An acting class that will introduce students to the unique way to approach Shakespearean text and use it to develop character. No previous acting experience necessary. Can be open to younger students by exception, but generally this is a class best suited for teens 16+ and adults.
This isn't your high school English class Shakespeare- this is the Shakespeare of high drama, clownish comedy and some of the worlds favorite stories. This is a supportive environment where questions are encouraged, and being playful is necessary! 
We will go through scenes and monologues as a group, learning how to use meter, sentence structure and word choice to our advantage as performers. Learn how to analyze text in a way that is understandable and performable! Additionally, we will work on basic acting skills, learning how to use our voices and bodies to the best of their potential! Students will learn how to take the language of Shakespeare and make it feel contemporary, honest and entertaining. Students will also work on one monologue throughout the class, using what we have learned and applying it to their individual speech, culminating in a class performance in our final lesson. 
Sue's Garage and Loren Daniels Trio
The Phoenicia Festival of The Voice is Thrilled to host our very own Jim Rauter's Band: Sue's Garage. They play rock, blues, country with their own spin!
. Members of our band are: Tom Fetterman, Bonne MacSaveny/lead vocals, Tim Mukherjee/lead guitar, Maggie Parent/violin, Jim Rauter/guitar, vocals, harmonica, Ed Scudder/bass, and TJ Turgeon, keyboard and vocals.
Loren Daniels, one of the festival jazz star, will perform jazz infused Beatles music that will be on an upcoming album release, with Rich Mollin and Joe Damone, and the exceptional participation of Andy Cahill.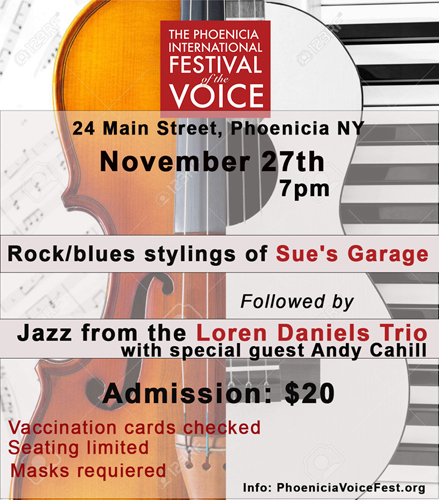 Jim Harwood
Presents Broadway Holiday!
Phoenicia Festival of the Voice Foundation is proud to host a special event presented by Jim Harwood:
A Broadway Holiday, featuring Broadway Stars: Daryl Kojak ( piano), Fred Redd, Emilie Bienne, Aaron Burt, Maddie Allen, Charlie Kniceley.
An accomplished and widely diverse composer, Daryl Kojak has created and scored music for film, television, stage, artist's recordings and video games.  Among feature films that include Daryl's work are "True Love," "Nola," "Warrior Class" and "Reunion, The Movie. "Daryl is a recipient of Backstage's Bistro Award for Outstanding Musical Director, The Caribbean Gospel Music Award for Top Gospel Arranger, and The Daryl Kojak Trio received the MAC Award for Best Jazz Group (The Manhattan Association of Cabarets and Clubs).  Laurie Krauz and Daryl share a Bistro Award for Outstanding Theme Show for "Tapestry Rewoven."  Daryl arranged Anthony Cochran's "Lives," (Music Of Elvis Presley,) which also received a Bistro Award.  Daryl has been nominated numerous times for a MAC Award for Best Musical Director. Daryl has worked on the New York music scene for more than thirty years as a pianist, producer, composer, songwriter, arranger and musical director. The musical genres and styles of his extensive recording experience include jazz, blues, gospel, rock, R&B, pop, classical, new age and musical theater.
Emilie Bienne is an actress, singer, songwriter, dancer, and multi-instrumentalist with a penchant for comedy. Emilie was the lead and vocal captain for the international tour of In The Mood. Emilie first began writing music with her Japanese rock band Red Clay & Wattage while still working and performing in Tokyo Disney's Big Band Beat. Emilie received her B.F.A.  in music theater at the Boston Conservatory with an emphasis in dance and acting. She continued acting training through the Flea theater and the Looking Glass Theater. After having expanded to singing metal Emilie has Melissa Cross to thank for her technique. Before the pandemic, Emilie ran off to New Orleans to learn more about New Orleans jazz music while supporting herself by singing on Frenchman Street with a reggae band and singing and playing harmonica with a blues band. New Orleans opened up a whole new world of ballroom dance, and Emilie has a new love for Zouk. Emilie has also been taking percussion lessons with Tommy Campbell.    Most recently, Emilie has had the opportunity to continue performing regularly with F*Bomb, a monthly tribute to rock music at Arlene's Grocery in NYC. You can also find her recently produced music video "The House is Haunted." Emilie is in the midst of writing and creating a one woman show with music. Emilie graced the zoom stage with Planet Connections, creating new characters known for their inability to leave the couch or magically turn into a seal. Emilie is in a Boston cover band as the lead singer, playing synth/keys and singing in an 80's cover band, and can also be found singing jazz all over NYC with master guitarist Mark Whitfield. She is currently working as an actor on a film with award winning director/photographer/painter Bill Hayward.    When Emilie is not playing with words or music, you can find her chatting up her family's chickens on their horse farm in Michigan, sometimes in French…but usually in English.
Aaron Richard Burt made his regional theater debut at White Plains Performing Arts Center as a soloist in Andrew Lloyd Weber's Masquerade.  "Jesus Christ Superstar…and a powerful Gethsamane from Aaron Burt" Broadway World 10/12/21.  He recently graduated with a BFA in Musical Theater and has worked on multiple different productions in the NJ/PA/NY area. His last appearance was at Algonquin Arts Theater where he played Mark in Rent. Aaron's performed in several different productions including Jesus Christ Superstar, Amèlie, Murderpass: A New Musical, Little Shop of Horrors, and many others. He would love to thank his family, friends, and mentors who have made him the person he is today. Special shoutout to his mother, father, brother, and sister for always believing in him. He also would love to thank the audience and to personally welcome everyone back into live theater. Welcome home, everyone! Instagram-@aaronburt
Fred Redd has over 300 performances in concert, opera, musical theatre, radio, and television nationally and internationally.  As soloist, he's graced the main stages of Carnegie Hall and Lincoln Center on numerous occasions including a Live from Lincoln Center telecast. Fred returned to New York City Opera in 2019 as a featured artist in the world premiere Stonewall in Lincoln Center. Last month, in another world premiere, Fred created James, a central character in Martinsville 7 with Trilogy Opera.  London's Opera Now magazine described Fred as "a compelling vocal actor" and in the Eugene O'Neill review as having "an excellent voice".  Fred is a board member with William Warfield and Concert Artist Guild organizations. In addition to his music studies, Fred has earned engineering and MBA degrees and is a Manhattan business executive. He's also an athlete having completed over 20 triathlons, 4 marathons and recently a 2-time Ironman finisher.
HR Artists Management manages the careers of Musical Theater Performers in:
Broadway, Off-Broadway, Touring Productions, Pops Concerts, Cruise Ships, International Engagements, Recordings, Commercials, T.V. and Film, Cross-Over/Opera as well as Music and Stage Directors for all of the aforementioned venues. In addition this corporation serves as Artistic Consultants, Artistic Administrators and Producers for Performing Arts Festivals, Music Series, Musical Shows, Chamber Music Groups, and Individual Musical Artists.
For 12 years the Phoenicia International Festival of the Voice has led carolers in Phoenicia!
A tradition bonding us to the community we cherish!
Lots of healing joy and great spirit!
It was so wonderful sharing the fun of Tree Lighting and The Festival of the Lights with our neighbors and surrounding community!
If you missed it, please join us next year!