Presented summer 2023
The International Festival of the Voice
presented an art exhibition
featuring painters Bruce Murphy, Ani Tashjian and Steven Weiss.
With small works exhibition
"Remembrance" April 24, 1915 Armenia
with painters Sarkis Simonian, Iris Tatian, Ani Tashjian and Laura Zarougian
Dance performance by Heidi Stonier and musician Maggie Parent
Bruce Murphy
Courtesy Carrie Haddad Gallery Hudson, NY, 
Texas native, Bruce Murphy, will exhibit a new series of paintings using his preferred materials of enamel paint and various metallic powders. Over the years, we have seen Murphy's abstract color composition take on characteristics of landscapes where horizon lines distinctly separate land from sky in minimalist blocks of color. Recently, Murphy has introduced a grid of straight, measured lines that pierce through the expansive color schemes with the implied specificity of an Agnes Martin. Diaphanous clouds of color are layered within veils of gold and silver metallic powders. A true master of this medium, the artist's deft application results but also emits from, through and behind the nebula of color. Murphy invents a universe on a two-dimensional plane where his marks and incisions become points in the cosmos. Bruce Murphy obtained a BFA in paintings from the Parson's School of Design in New York City. After a long career in graphic design, he now lives in Rhinecliff, NY and devotes himself full-time to his art.
Ani
"All I ever wanted my paintings to say to the viewer in that given moment of contact is to feel the deepest part of their own sacred heart" 
Ani was born into an Armenian family in Marseilles France. Her family came to America when she was very young. She grew up among artists and loved her ethnic Armenian music, delicious foods and loving family, which was the first muse into her passage for the passion of painting. She studied at the High School of Music and Art, and received the Nessa Cohen Award from the Arts Students League in New York to study at The New York Studio School with painter and mentor Nicholas Carone.
Today she is blessed with parenthood to her beautiful daughter and muse Maia Jillian, who is now twenty years old and an opera singer and is married to artist and painter Steven Weiss.
My paintings are marks like threads connecting our memories, our family and the world.

From the new series "Green Seeds of Love" 2023
Love song
You are the seeds that make my blossoms grow
you are the stream that feeds my inspiration
you are the ocean that rises to the sky
and weeps down love you are my love song
dedicated to my daughter Maia and husband Steven
When visiting Ani and her paintings, poet Robert Bly compared her archetypal women to the women adored in Hafiz's and Rumi's love poems.
"My work is the process of the removal of veils induced by society; thus allowing the penetration of the essence and origins of the work itself. The paintings begin with no preconceived image or idea; only a profound and persistent emotion, which is the actual beginning. These images and emotions develop and unite to form a synthesis which brings to consciousness that which I was in touch with and which needed to be understood. Having a strong belief that we are more than we know, the process allows me to go beyond the limits of knowledge and to be accessible to that which I am only vehicle."
Steven Weiss
Small works exhibition "Remembrance"
Small works exhibition "Remembrance"
April 24, 1915 Armenia
with painters Sarkis Simonian, Iris Tatian, Ani Tashjian and Laura Zarougian
On April 24th, 1915, the Armenian writers, musicians, doctors and intellectuals of Istanbul were rounded up by the Ottoman authorities and sent to their deaths.
From 1915-1923, Armenians throughout the provinces were forcibly removed from their indigenous homelands. On the long marches into the desert, women and children perished from starvation and disease. Many of the men were executed in plain sight or sent to labor camps.
The survivors of this genocide fled to all parts of the globe- Latin America, Europe, Asia, North America. In these far off places they established communities, rebuilding what they could of their lost homeland.
Armenians are most proud of their alphabet, their cuisine and their mountains. In almost any Armenian home, you will find a painting of Ararat- the famed twin peaks of the bible where Noah's ark is said to have landed. These mountains are not technically in Armenia proper- most of historic Armenia is not, but they speak to the very soul of Armenians. We are an ancient people of the mountains. Growers of grapes, figs and apricots. Visit Armenia, and shepherds, taxi drivers, and school children will recite you poems. You will find sculptures of poets and painters all over Armenia.
The genocide receives little attention by the global community. Turkey, to this day, denies that it ever happened. And sadly, this denial has paved the way for more violence against the Armenian people and their right to sovereignty. Today Azerbaijan is waging war on Armenia's eastern border. And yet, most media sites ignore this reality. Once again, we ask, who writes the history? Who decides what gets written in the textbooks? All too often it is the great empires, colonial powers, the dictators and oil rich nations that can erase their subjects, indigenous communities without any repercussions. The victors choose the narrative.
But on April 24th we remember. We remember our homes, churches, mountains that we left behind. We remember the loved ones we lost. They are still waiting for us to return. Until then we paint what we can remember.
Laura Zarougian April 2023
Daily Freeman April 25, 2023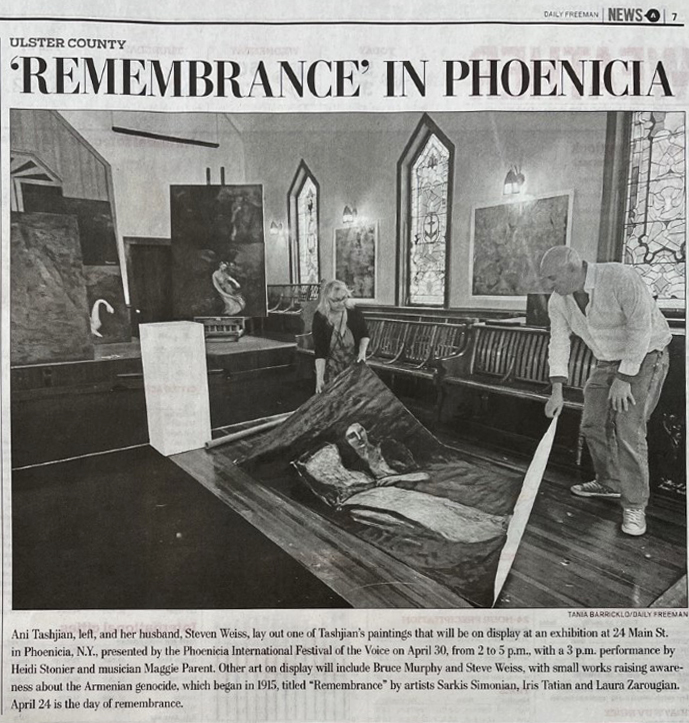 Previous Exhibition 2022 – Ukrainian artists
During our 2022 season,
we invited 3 Ukrainian artists for our "Art in celebration of Ukraine": Olexa Casanova, Lesya Verba and Igor Sokol.
Armenian Artist Ani Weiss, and local artist Steven Weiss and David Pollack will also exhibited their work at
"Art at 24 Main."
Come discover these wonderful artists.
While our mission is to primarily focus on the vocal arts and its different usages and facets, we believe that arts in general are intimately intertwined, influence each other, and serve a same purpose in our society. Therefore, we do want to continue to present artists every year in our field and we hope during the year at our new Community and Cultural venue.
Ukrainian Artist Olexa Casanova
Olexa
Casanova is
 an American artist of Ukrainian background, residing between Brooklyn and the Catskills.
My work is mainly abstract landscape and seascape paintings that deal with subjects of nature, its beauty and power, but are also representational of the turbulence in our world: our disregard and disrespect to nature, our planet, our home. It's also an expression of personal internal turmoil caused by current events, which oftentimes feel beyond our individual control, such as war, civil injustice, and hate, that continue to plague the world we live in.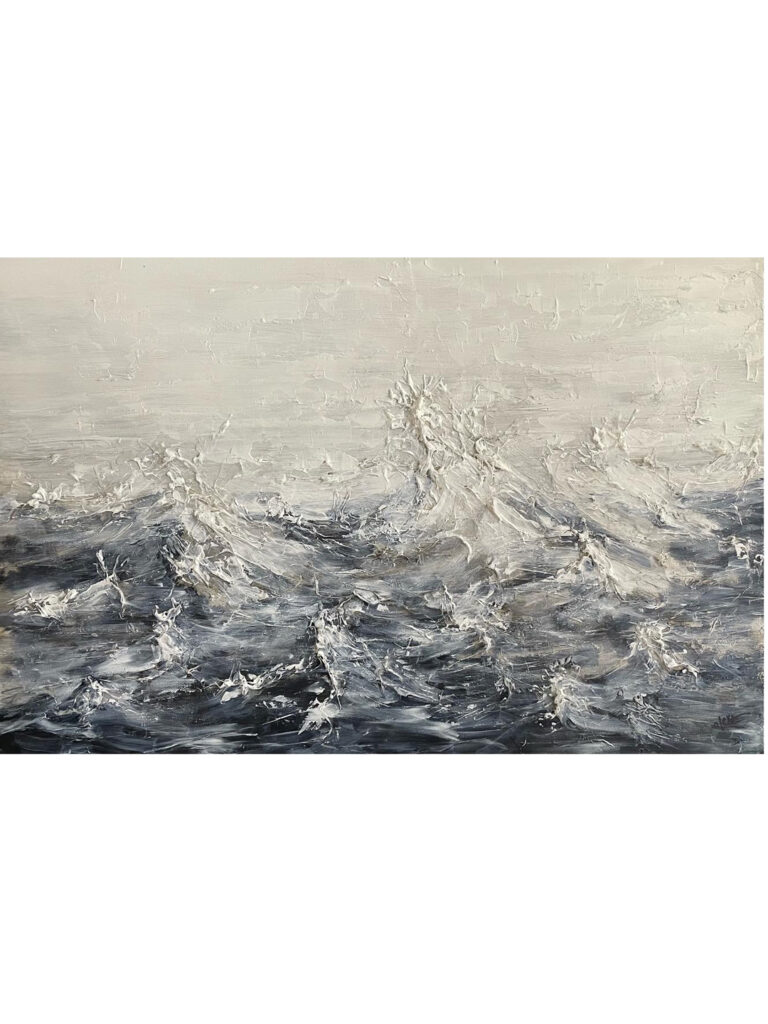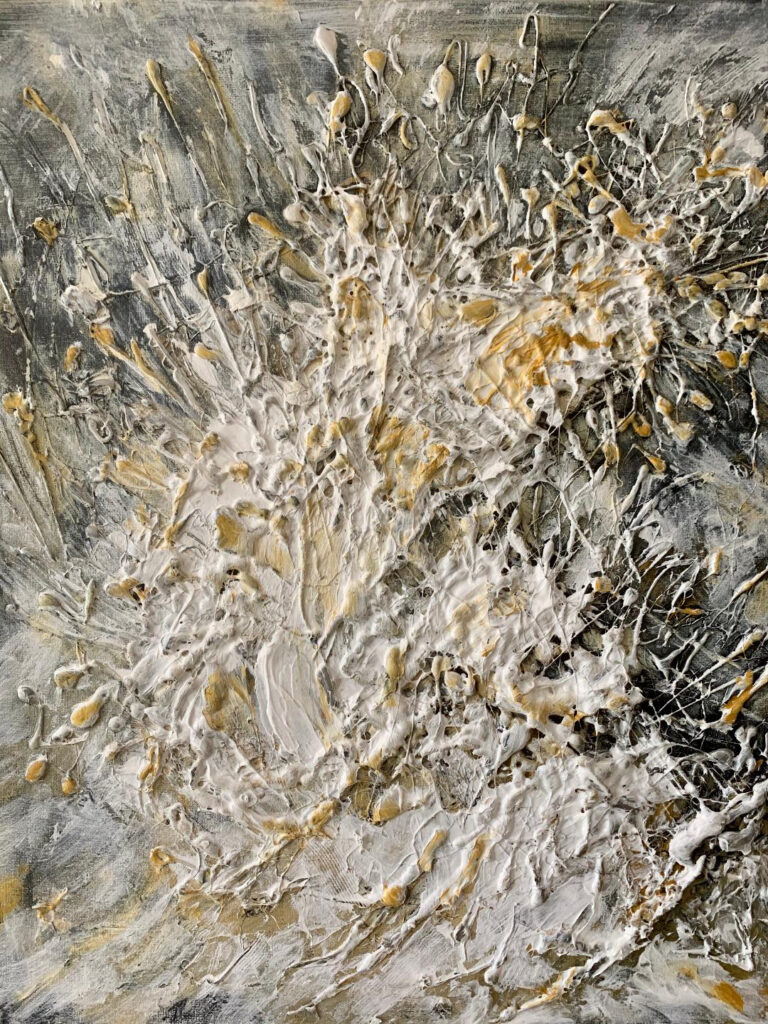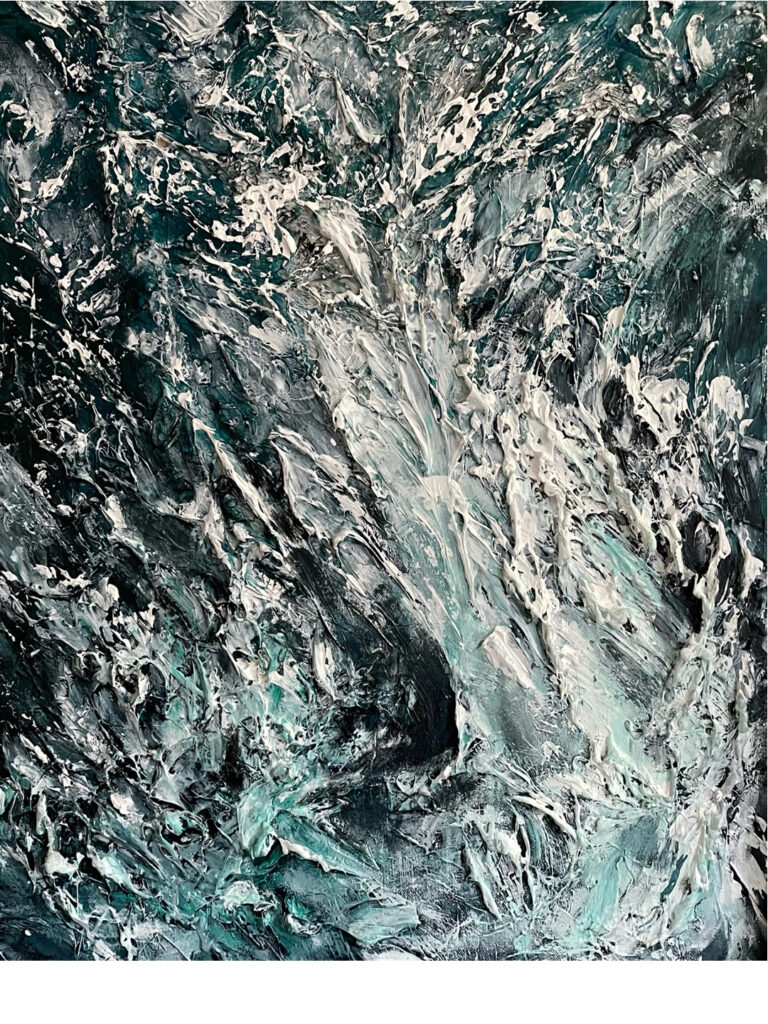 Ukrainian Artist Igor Sokol
Igor Sokol is a Ukrainian born artist currently based in New York City, working in painting, as well as sculpture and design. Having spent his childhood in Rivne, Ukraine, his early experimentations with art were through creative problem solving: crafting, mending and replicating items that were inaccessible to him at the time. As his skill and fascination with visual art and design grew, he took painting classes and later worked as a graphic designer while earning his BFA from the Institute of Arts at RSHU.
Sokol's work is a navigation of observations in his present environment, informed by the memories and values he gained while living in Ukraine. His abstracted paintings are inspired by organic forms, combinations of colors, and the vastness of the ever-changing sky. Aiming to capture the beauty and significance of simplicity in daily life, Sokol reduces his subjects to what really matters, resulting in balanced and airy compositions. Nothing describes his beliefs better than a quote by sculptor Constantin Brancusi, "Simplicity is complexity resolved".
Igor Sokol's paintings have been exhibited in galleries in New York, he had a solo show "Reflection of Time" at FRIEDAcommunity in Philadelphia, completed an artist residency at Unruly Collective in Brooklyn, and held multiple painting and drawing workshops. Aside from private collections, his artwork and designs can be seen in public spaces throughout NYC, and most notably at the Rehabilitation Institute of Chicago. Recently his work and studio were featured on NY1 news channel.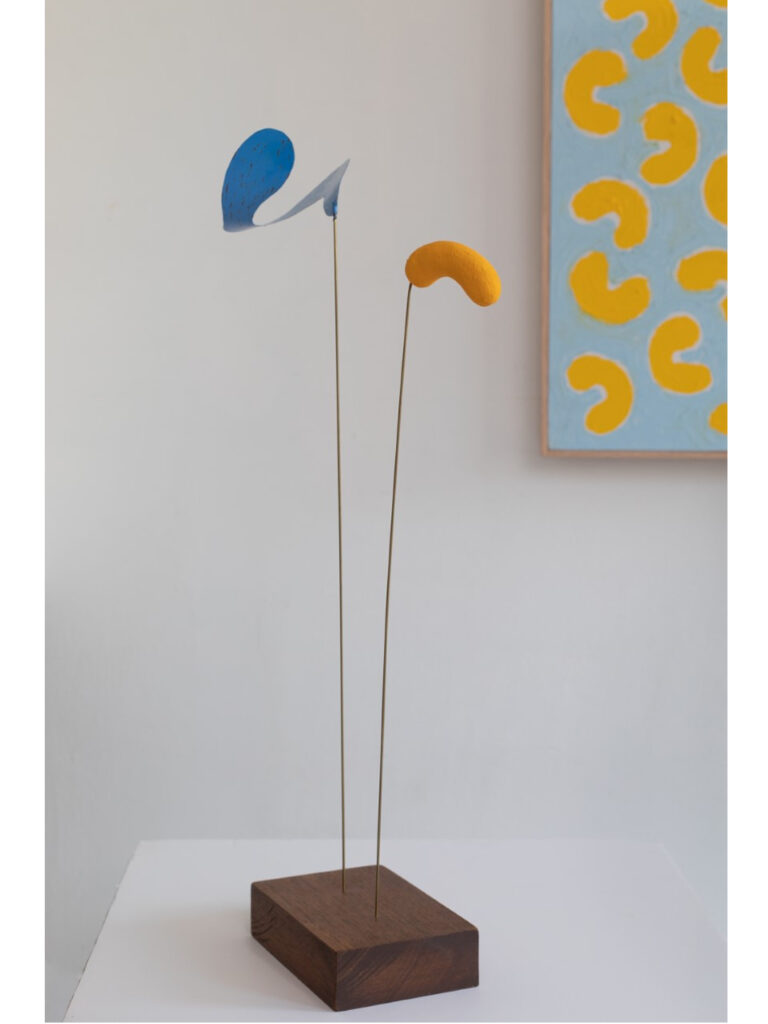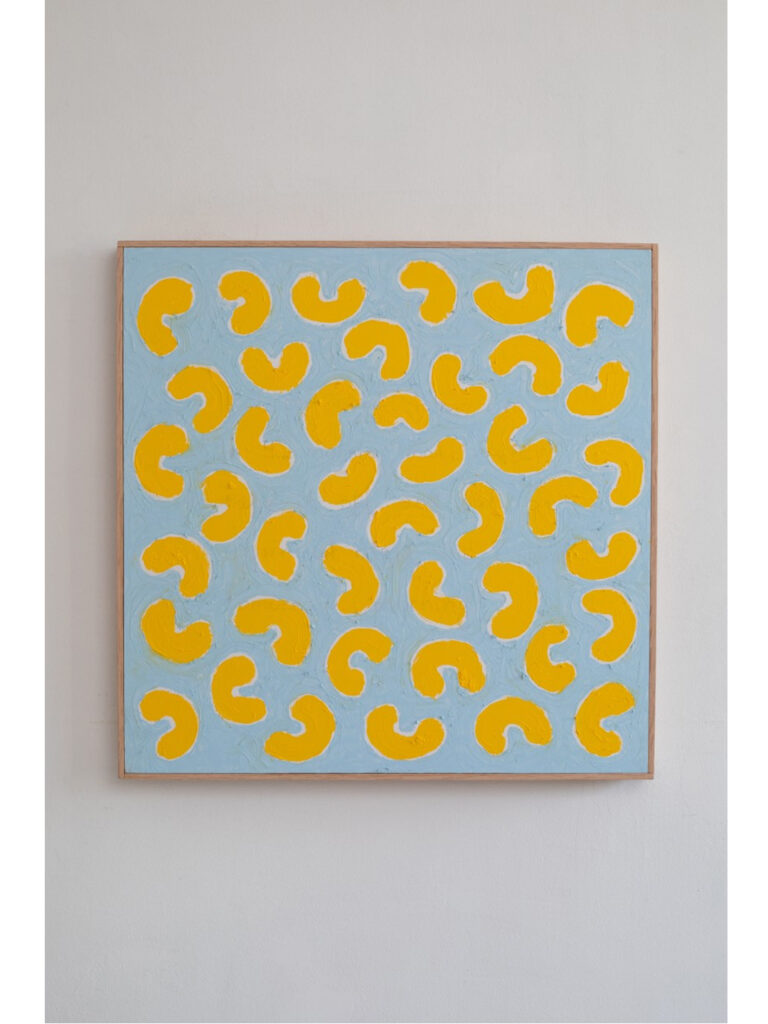 Ukrainian Artist Lesya Verba
Ukrainian-American painter, musician (bandura player), singer, actress (Yara Art Group, La MaMa theater)
Lesya Verba – singer, artist-designer, songwriter, bandura player, muralist – easily interchanges images and plunges into the atmosphere from music of Art Deco era, progressive nude urban jazz and a feminine mixture of cultures in the spirit of Berry Sisters.
Performs songs in Ukrainian, Russian, English, Italian and Yiddish.
In 2020, the album of author's songs "Golden" was released in alliance with the lyrics author Marianna Kiyanovskaya (winner of the Taras Shevchenko's National Prize of Ukraine).
Soloist of the Odessa-Kiev project "Favorite Songs of Utesov", soloist of the municipal jazz big band, actress of the extravagant cabaret show "Co Co L'Amour", actress of the theater of absurdity "House of Clowns" (Odessa)
From the beginning of her vocal career, Lesya performed for the Most Serene Special – the Prince of the Principality of Liechtenstein, His Serene Highness Maximilian (2009, Moscow), at the opening of Kazantip (2008), behind the choir and even in the women's colony.
As an artist, Lesya Verba burst into the highest echelon of the national avant-garde in the early 2000s with painted "blankets" in a unique author's textile technique, and with vocal performances. An unknown person from Odessa was immediately admitted to the creative association "Gazgolder", and the first exposition was presented at the Biennale of Moscow Contemporary Art in the project "Believe" (curated by Oleg Kulik). Personal exhibitions and concerts – from ethnic jazz to electronic experiments. Her works are in private collections of the living classic Peter John Greenaway (Great Britain) and a top model Sasha Pivovarova (USA) .
The author of the musical mural on Brass Music Theater. Salika – participant of the international project "Odessarium", 2018.
The author of the mural in Kiev on Andreevsky Spusk based on the Ukrainian classics by Mikhail Staritsky "Chasing Two Hares", 2019
A vocal video performance dedicated to Alexander Vertinsky (Odessa, gallery "Invogue Art", 2020) has grown into a large-scale exposition – the project "I'mGrand / t" and is presented at a personal exhibition at the Odessa Museum of Western and Eastern Art.
In 2020, she creates a unique self illustrated album – a collection of songs "The History of Not Odessian Songs" with anthology of songs and lyrics, sheet music and a CD, where she performs these songs with the Odessa Klezmer band. After leaving Odessa, she becomes a member of the Writers Union of North America.
In 2021 Lesya creates a mural dedicated to Vladimir Zeev Zhabotinsky in Odessa by request of the Embassy of the State of Israel, the project "Art speaks History" (Ukraine-Israel)
Before her start of new life in USA, she leaves as a gift to her native court yard a mural dedicated to the writer Arkady Lvov, who also lived at this address and immigrated to New York in early 70's.
In New York in August 2021 I was a leading singer in the "Yara-art group" – La-MaMa theater in the play "A Thousand Suns", director Virlana Tkacz, dedicated to the Ukrainian writer Lesya Ukrainka.
Also participated in the project #StandwithUkraine which was organized Yara Arts Group and The Ukranian Museum, director Virlana Tkacz.
A regular participant in the events held by the Union of Ukranian Women of America (NYC), Spilka NYC, Theatre Group Anomalous Co.
Leading singer and actress in the play "Radio 477" (June, Auguest 2022) director Virlana Tkacz.
Lesya Verba born in Odessa in 1979.
2007 Participation in the group exhibition "I Believe" (curated by Oleg Kulik) within the framework of the II International Biennale of Contemporary Art, Vinzavod, Moscow; participation in the group exhibition "Miru-mir", Gaz Gallery, Moscow.
2008 "Gas Nights" in the framework of the International Fair of Contemporary Art "ArtMoskva"; stand of the gallery "Sovcom" – pre-auction exposition.
2009 Project "Odessa Grows Up". Art Center of Alexander Korobchinsky, Odessa.
2010 Personal exhibition "Once upon a time", VOLGA art gallery, Moscow.
2012, 2013 Personal exhibition "My family and other animals", art-cafe "Bunin", Odessa.
2013 Participation in the project "New Odessa" (curated by Vaclav Yutash-Zyuzin) Municipal Gallery, Kharkiv.
2015 Personal exhibition "VERBARIUM" Shustov Cognac Museum, Odessa.
2015 Participation in the project "INOE", MSIO, Odessa.
2016 Personal exhibition "Roots". gallery of the National Union of Artists of Ukraine, Odessa.
2017 Participation in the group exhibition "Platopis" curated by Vladimir Umanenko, NT art gallery Odessa.
2018 Personal exhibition "Toucher". World club of Odessa citizens. Odessa.
2018 Participation in the international project "Odessarium", the creation of a mural on the building of the Odessa Municipal Theater of Brass Music have A. Salik, curator – Elena Orlova. Odessa.
2019 Author of a mural in Kiev on Andreevsky Spusk based on the Ukrainian classic Mikhail Staritsky "Chasing Two Hares". Kiev.
2020 Personal exhibition "I'mGrand / t". Odessa Museum of Western and Eastern Art.
2021 – International Mural Art project- Art speaks History- Israel -Ukraine, Mural in Odessa city – portrait of Zhabotinsky.
2022 – "Ukraine. Identification code". Curator and participation in the group exhibition "Evans" real estate boutique. NYC